Daily Readings
Weekly reading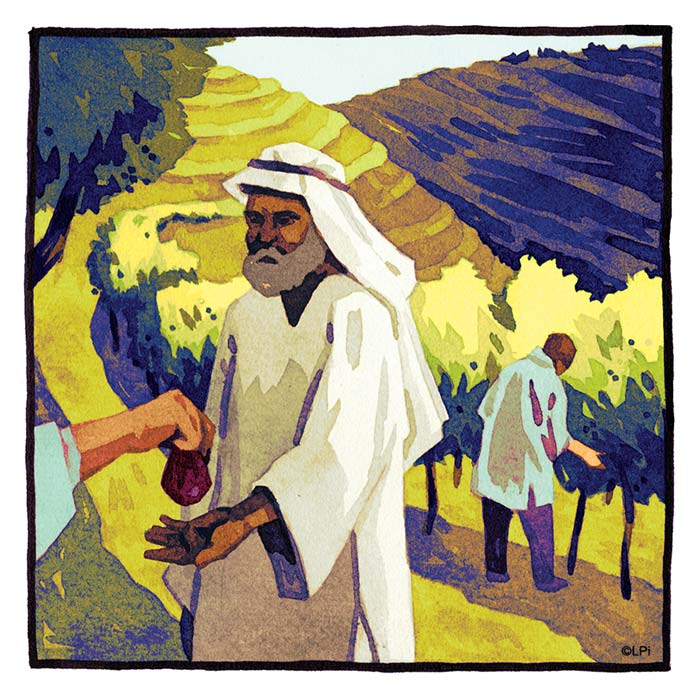 Weekly reading
Readings for the week of September 24, 2023
© Liturgical Publications Inc
Pastor Message and Prayer
9/24
And he said to me, "Son of man, eat this scroll that I give you and fill your stomach with it.' Then I ate it; and it was in my mouth sweet as honey.
Ezekiel 3:3
Some books of the Old Testament are easy to read and are easily forgotten; others are difficult to ready, but some how the content of these books stays with the reader for a long time. The Book of th prophet Ezekiel belongs to the latter category.
A prophet was a person who communicated God's message to the People of Isarael. The word directed to them by the prophet referred to the past, present, or future, but above all, it addressed the devine message to his contemporaries and it was relevant to them in their time. As a prophet, Ezekiel communicated the divine message using speech but his words were not only simple sermons. His words were rich with symbolism and hidden meanings, that lay under the surface of his messages. When in a vision he ate a scroll-an equvalent of a modern book-it was a symbolic and powerful way of communcations (Ezekiel 3;3).
Ezekiel was called to be a prophet in Israel. Now the spirit of God sets him on his feet and calls him to announce the judgement to Israel. The scroll contained the "words of lamentation and mourning and woe" (Ezekiel 2:10). The effect of these words was to evil person. So, the goal of these words addressed to the people of Israel, was to make the ungodly mournful. It is is interesting to note that perhaps Ezekiel's earlier experiences formed his vision. During the reign of King Jehoiakim, Jermiah's prophecy written on a scroll was read in the temple (Jermiah 7). The prophet rebuked the people for their false and worthless religion, their idolatry and shameless behavior. Of course he didn't find appproval in the king's eyes, who reacted negatively to the message on the scroll, burned it piece by piece and ordered the arrest fo the prophet (Jermiah36). Ezekiel was to take up the task similar to that of Jeremiah. Ezekiel knew that Jeremiah's scroll didn't win him favor, but now he is commanded to eat the scroll so that it would become a part of him.
We eat in order to live. Food, when it is digested and absorbed, prvides strength for us and we can undertake normal physical functions. If we "digest" God's Word, we will find that it not only makes us stronger in our faith, but its wisdom will improve our life, will "sweeten" our life. And the means doing more than just giving God's Word a casual glance. We must make digesting God's Word a regular part of our life.
Fr. Joachim
St. Mary Mass Times
Weekend Mass Times
Saturday 6:00pm
Sunday 8:30am

Daily Mass Times
Wednesday 8:30am
Wednesday: Adoration of the Blessed Sacrament 9am-9:30am
Friday 8:30am
First Friday 8:30am Healing Mass and Adoration

Confession Times
Saturday from 5:30-5:50 or
by appointment by calling the Rectory at 815-858-3422

Ash Wednesday: March 2nd
St. Mary 8:30 A.M.
6:00 P.M.

St. John 4:00 P.M.
St. Mary Office Hours
Tuesday 8:30 a.m.-3:30 p.m.
Wednesday 8:30 am- 3:30 p.m.. by appointment
Thursday 8:30 a.m.-3:30 p.m.
St .Mary Staff
Catechetical Religious Leader